How to open a demo account
A demo account is a special training account that allows you to learn all the features of the markets. It should be noted that the funds on this account will not be real, but virtual. It means that you will be able to learn from your mistakes without worrying about money spending. The following main objectives of this service should be highlighted:
1. Training. Opening a demo account will allow you to learn more about the currency and crypto markets. You will get access to a demo mode, where you will not have to risk your money. At the same time, the presented trading conditions will not differ from the real ones. This program is incredibly popular among beginner traders.
2. Training on a trading platform. As you know, it is much easier for every trader to work using trading platforms. Without software it is impossible to make any deals. Each program has its own features – a special interface, management mode, a number of rules.
3. Demo account is a convenient platform for practicing strategies. To be successful in the markets, you should think over your own trading strategy. In this way you will avoid the risks associated with the loss of real money.
So, to open a demo account, you need to perform three simple steps:
Log in to Dexly personal area, if you don't have a personal area, then register.
1. Go to "My Accounts" in your personal area
2. Select the account type: Demo
3. Press the "Create" button.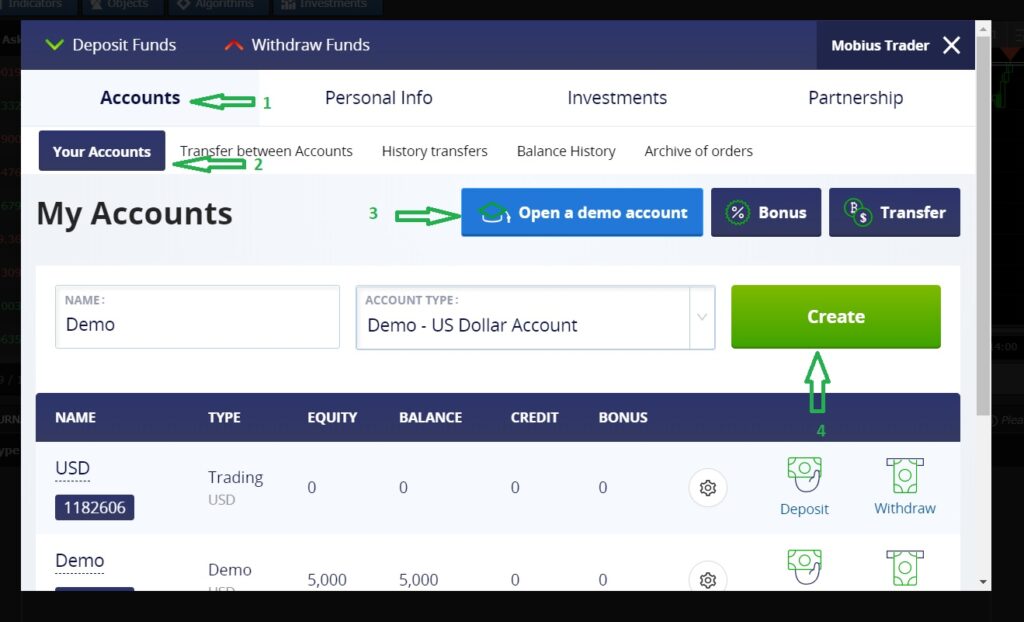 You'll get a $10000 Demo account.
Now you can go to the platform and start trading.